Introducing Undetectable.ai – the ultimate solution for anyone who wants to use AI-generated text without the risk of being flagged as artificial by AI detectors like GPTzero. With Undetectable.ai, you can rest assured that every AI detector on the market will perceive your writing as human.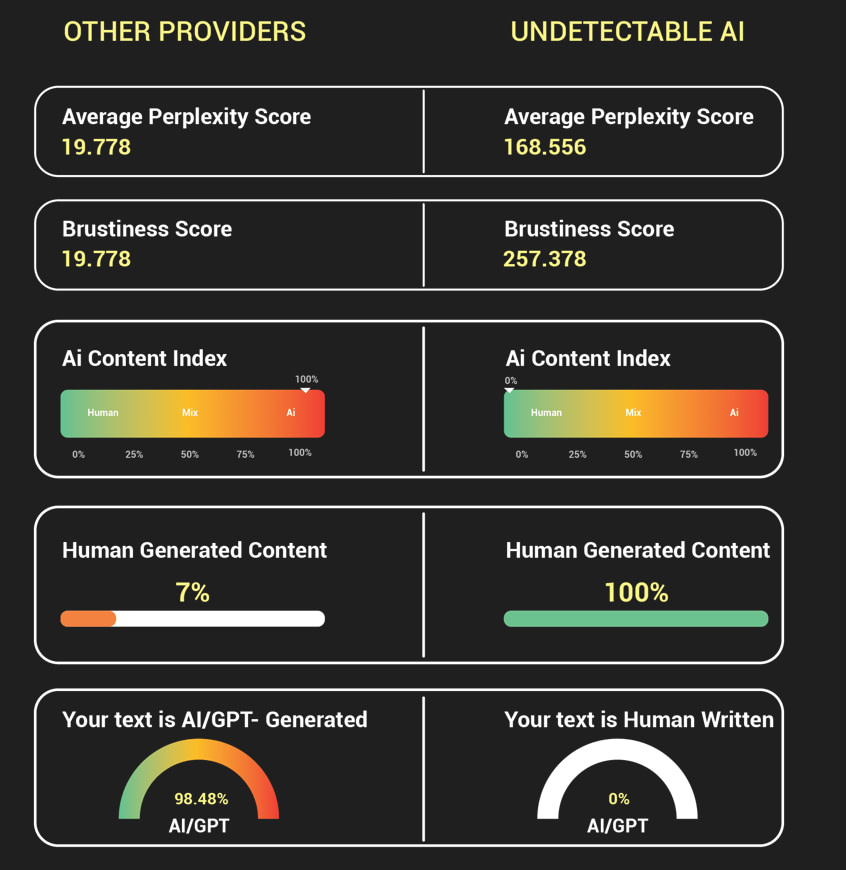 Using advanced AI technology, Undetectable.ai takes your AI-generated content and enhances it with subtle variations, nuances, and inconsistencies that mimic human writing patterns. The result is a final output that is indistinguishable from text written by a human being.
Undetectable.ai is the perfect solution for content creators, marketers, and anyone who wants to save time and resources by using AI-generated text. With this product, you can produce high-quality undetectable content that engages your audience without risking detection by AI detectors.
The Top AI Detectors we've extensively tested:
GPTZero – GPT Zero was designed by 22-year-old Princeton student Edward Tian. It is an application made to analyze texts to determine whether they were generated by an AI. According to their website, they have established partnerships with some of the largest learning management systems in the world, such as Unesco, Canvas, and K16 Solutions.
CrossPlag – Crossplag is an AI detection tool that can check for originality and plagiarism in over 100 languages. CrossPlag's AI detection tool provides a score between 1 and 100%, allowing you to see their algorithm's certainty that AI has generated an output.

ZeroGPT – ZeroGPT is the most aggressive AI detector we tested out of dozens of other detectors. We found in our testing that it was not uncommon for ZeroGPT to falsely flag, human-written text with AI scores ranging from 10-35% AI. Even so, Undetectable.AI's outputs will flag as human in ZeroGPT.
Originality.ai – Originality is "A Plagiarism Checker and AI Detector Built for Serious Content Publishers". It will put you in control of checking your content's originality by identifying any Plagiarism and detecting if AI tools were used to create the content.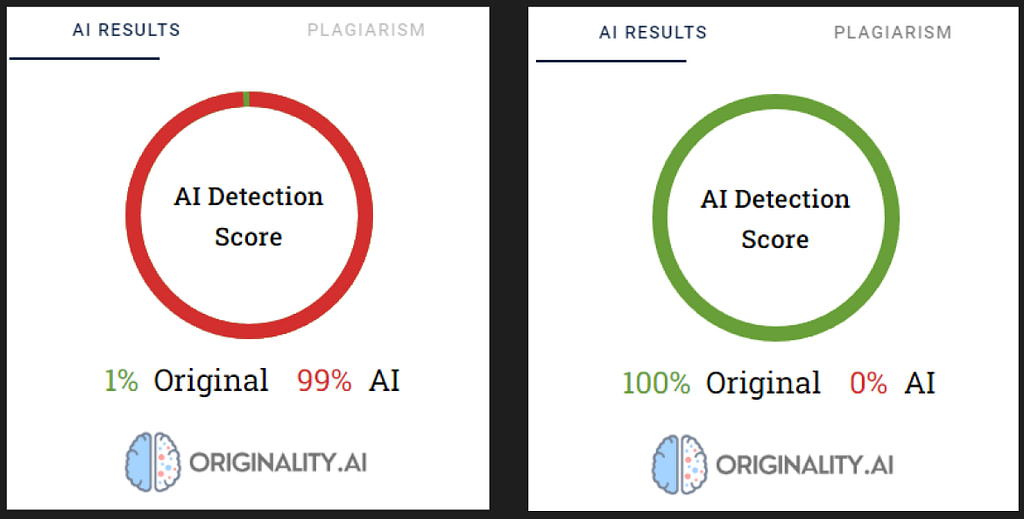 Other Detectors We've Tested
OpenAI ✅
Writer ✅
Copyleaks ✅
Sapling ✅
ContentAtScale ✅
Kazan ✅
HuggingFace ✅
Hive Moderation ✅
AI Detector Pro ✅
GLTR ✅
WinstonAI ✅
On-page.ai ✅
Ai-contentdetector ✅
Free Trial:
Undetectable.ai offers a 100% refund guarantee if any detector detects your output as written by AI. This is a testament to the product's quality and our confidence in our tools' ability to deliver humanized text.
Protect your work from being flagged or removed by AI detection tools, and expand your AI use cases with Undetectable.ai. Try it out for free today and experience the future of AI-generated text.